ECCO e-Guide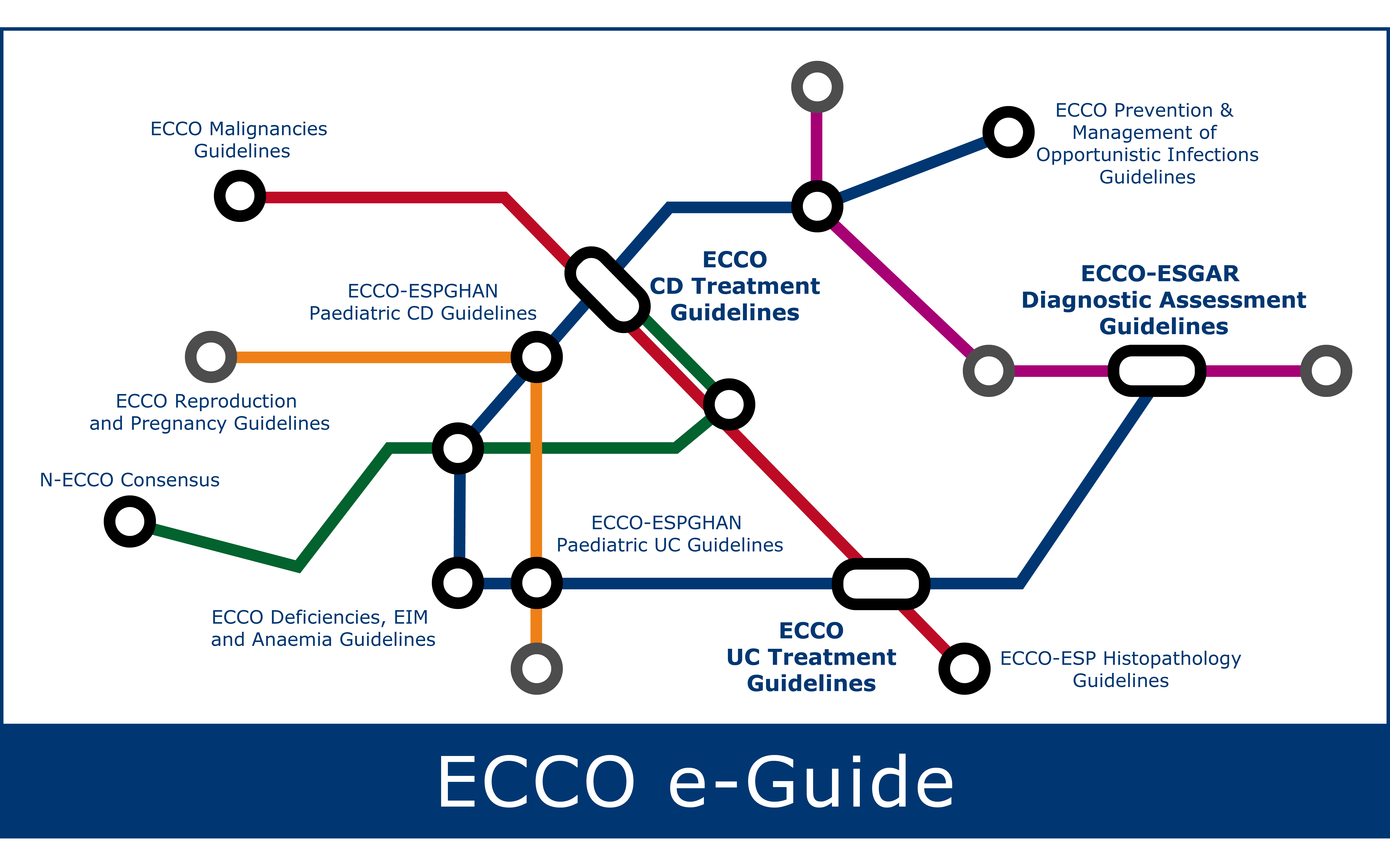 • Bringing activity to ECCO Guidelines
• Integrated with Consensus Statements of UC and CD
• Algorithmic maps encompassing ECCO Guidelines
• Disease calculators
• A new feature of the e-CCO Learning platform
• Desktop computer and tables compatible
• Open access
The ECCO e-Guide is a freely-accesible online platform for Health Care Professionals in IBD, which aimss to visualise the ECCO Guidelines as algorithms. These algorithms were developed during 2013/14 on behalf of ECCO (the European Crohn's and Colitis Organisation) by Marcus Harbbord, with assistance from a large number of IBD experts and ECCO Officers. The software development is based on a perpetual license - freely granted by Sociable Data. 
With respect to the new Guidelines generation of ECCO, a new approach in Guidelines methodology has been introduced: the GRADE Methodology has a robust evidence-based structure, which is more based on treatment interventions (instead of very specific situations as in the previous Guidelines). With the new ECCO Guidelines on Therapeutics in CD (published in 2019) and UC (publication expected in 2021), the key policy of ECCO was confirmed - establishing that guidance given by the ECCO e-Guide is based on evidence and validated processes – which are properly referenced. Each piece of information on the e-Guide is coming from published papers (official ECCO Papers with a Consensus procedure, SmPC approved by regulatory authorities and referenced articles of the calculators, scores and indexes) but not all published papers of ECCO will be included in the e-Guide.
ECCO e-Guide 2.0: In 2018-2019, an educational grant of Janssen allowed for intensive work to be done on the e-Guide, which included:
Pertinent content updates of the algorithms with respect to the recently published Diagnostic Guidelines and the new ECCO Guidelines on Therapeutics in CD;
Streamlining of the summary of therapeutic interventions with the SmPC approved by regulatory authorities;
Dedicated enhancement of the calculator section of the e-Guide with integrated calculators and guidance on how to use them;
Full project-integration within the e-Learning framework of ECCO and cross-referencing to further educational resources under the IBD Curriculum of the e-CCO Learning platform. The platform is now managed by two nominated e-Guide Champions in cooperation with the e-Learning Taskforce and selected GuiCom Members working on respective Guidelines.
ECCO e-Guide Taskforce

e-Guide Lead Development:


e-Guide Champions:


e-Guide Taskforce:

Marcus Harbord (former GuiCom)

Gionata Fiorino
Konstantinos Katsanos

James Lindsay (Education Officer)

Peter Irving 

Pascal Juillerat 

Henit Yanai 

Marietta Iacucci 

Christian Maaser