Challenges in pre-operative optimisation of patients with Inflammatory Bowel Disease
Alaa El-Hussuna, S-ECCO Member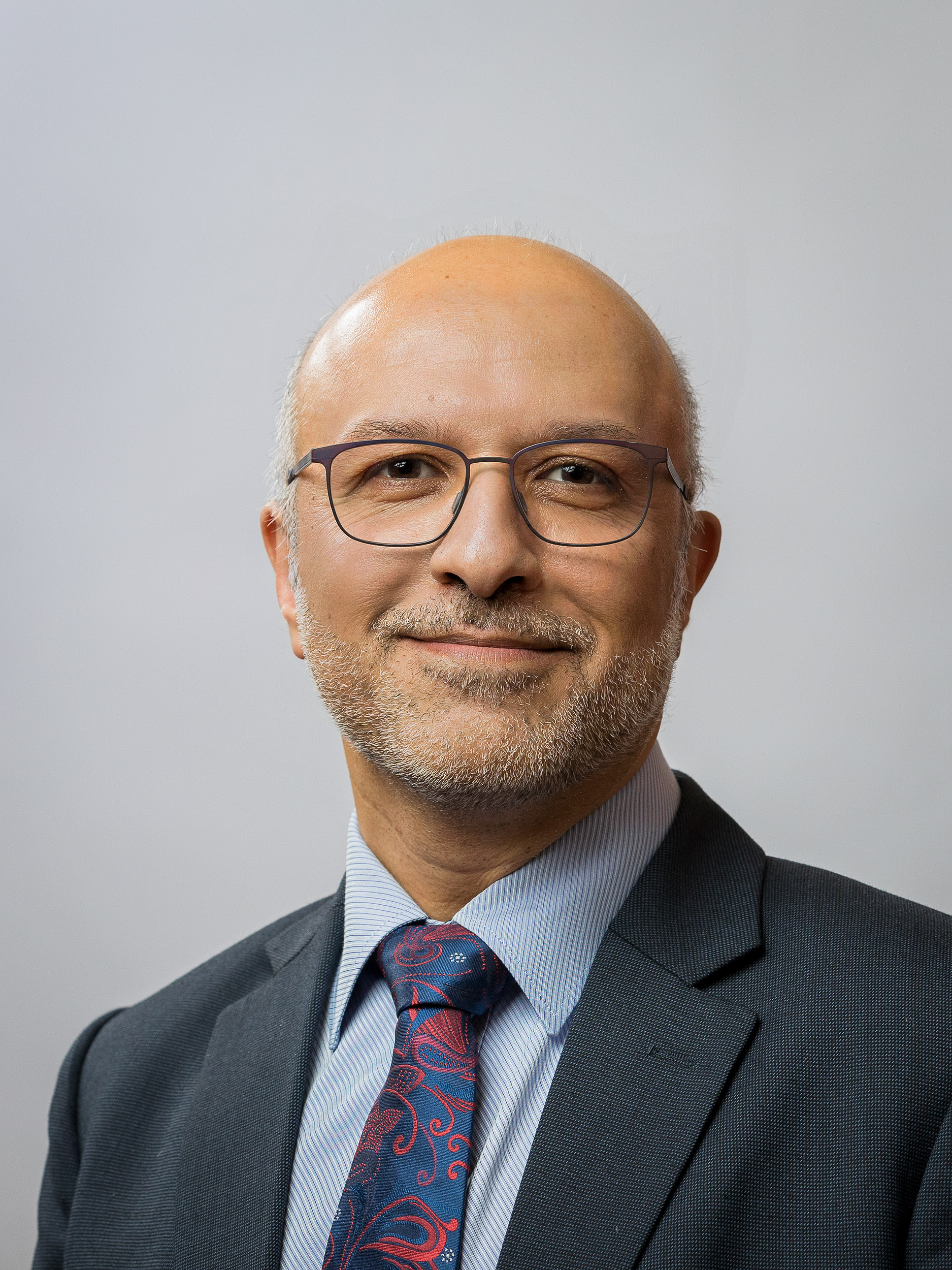 Alaa El-Hussuna
© ECCO
Optimisation is the action of making the best or most effective use of a situation or resource (Oxford Dictionary) but in the medical world it is preparing the patient (and the surgeon) for surgery and postoperative recovery.
The goal of "optimising" patients' health prior to surgery is to minimise the risk of postoperative complications, decrease the length of hospital stay, reduce unplanned re-admissions and enhance overall health and surgical experience.
The IBD team
Optimising the IBD team is the first step in preparing patients. A multidisciplinary team (MDT) is the most appropriate to manage patients with IBD because of the heterogeneity of the disease, the complexity of management and the chronic nature of IBD. Unfortunately, many tertiary centres in developed countries still lack MDT-planned management despite the strong evidence to support it.
Good pre-operative radiological diagnostic imaging is also mandatory to assess the patient and plan the operation. Surgical intervention, whether it is resection, stoma construction or strictureplasty etc., is only one station on the long path usually travelled by patients. Surgical intervention must therefore be integrated with other treatment modalities. This is best achieved by a dedicated IBD surgeon.
How to optimise the patient for surgical intervention
A bundle of pre-operative measures will optimise the patient for surgical intervention and improve postoperative outcomes. This bundle includes:
Adjustment of pre-operative medications (biologic agents and immune modulators may be continued but steroids should be withdrawn or tapered to the minimum required dose).
Assessment of nutritional status and subsequent initiation of appropriate nutritional support with enteral and/or parenteral nutrition.
Correction of anaemia using injectable iron (patients often suffer from intolerable gastrointestinal side-effects from oral iron, which may increase inflammation and contribute to flares).
Radiologically guided percutaneous drainage of spontaneous Crohn's Disease (CD)-related intra-abdominal abscesses as a bridge to surgery. Surgery is indicated after an interval of at least 2 weeks to reduce risk of abscess recurrence, help to control CD activity and achieve good pre-operative optimisation.
Peri-operative psychological care for patients with IBD who undergo surgery, when considered necessary. Note also that patients experience variable degrees of limitation in activity after surgery and a physical rehabilitation programme is warranted.
Enhanced recovery pathways (ERP) to improve immediate postoperative recovery. These protocols should be tailored to the specific needs of patients with IBD.
Thromboprophylaxis for all surgical patients, bearing in mind that IBD patients have an increased risk of thromboembolic events. The thromboprophylaxis should be extended after discharge, particularly in patients with relevant risk factors.
Advice to stop smoking prior to elective surgery, with provision of help when appropriate.
Pre-operative mechanical bowel preparation before colorectal surgery in patients with CD: this is especially appropriate in patients undergoing ileocolic resections for penetrating CD.
Pre-operative stoma counselling and marking by appropriately trained specialists such as stoma therapists or specialist nurses.
Investigation and appropriate treatment of comorbidities prior to IBD surgery.
Careful attention to the timing of surgery, which is very decisive given that elective surgery is much more beneficial in this group of patients.
Challenges in pre-operative optimisation
How many centres offer such a bundle of pre-operative measures to patients? Even if we consider only tertiary centres in developed countries, pre-operative optimisation is still limited. There are several reasons for this failure:
Lack of the resources needed to hold regular MDT conferences. Many countries have made the MDT approach mandatory when treating patients with cancer, which has led to a significant improvement in cancer survival. This is not the case for IBD, however.
Lack of dedicated IBD surgeons. The number of patients with IBD who need surgical intervention is not high. Most departments allocate IBD surgery alongside other colorectal surgeries for benign conditions that are performed by surgeons with varying levels of expertise in IBD management.
Pre-operative optimisation requires admission to hospital and active measures that may overstretch the resources of departments and are therefore unpopular. Many departments accordingly attempt to avoid admission prior to surgery, a policy that significantly decreases the quality of care in patients with IBD.
Lack of evidence regarding the impact of the bundle of pre-operative measures in patients with IBD.
Evidence to support optimisation
The above-mentioned pre-operative optimisation bundle and the evidence to support it has been discussed in detail in a recent ECCO Topical Review [1]. However, to the author's knowledge, to date no study has examined the effect of the different elements when applied together in one bundle. This reflects the challenges faced by research into postoperative outcomes in IBD. The heterogeneity of the disease, the complexity and multidisciplinary nature of management and sample size issues make it difficult to conduct a well-designed research project, leaving aside the difficulty in raising funds for such a research project.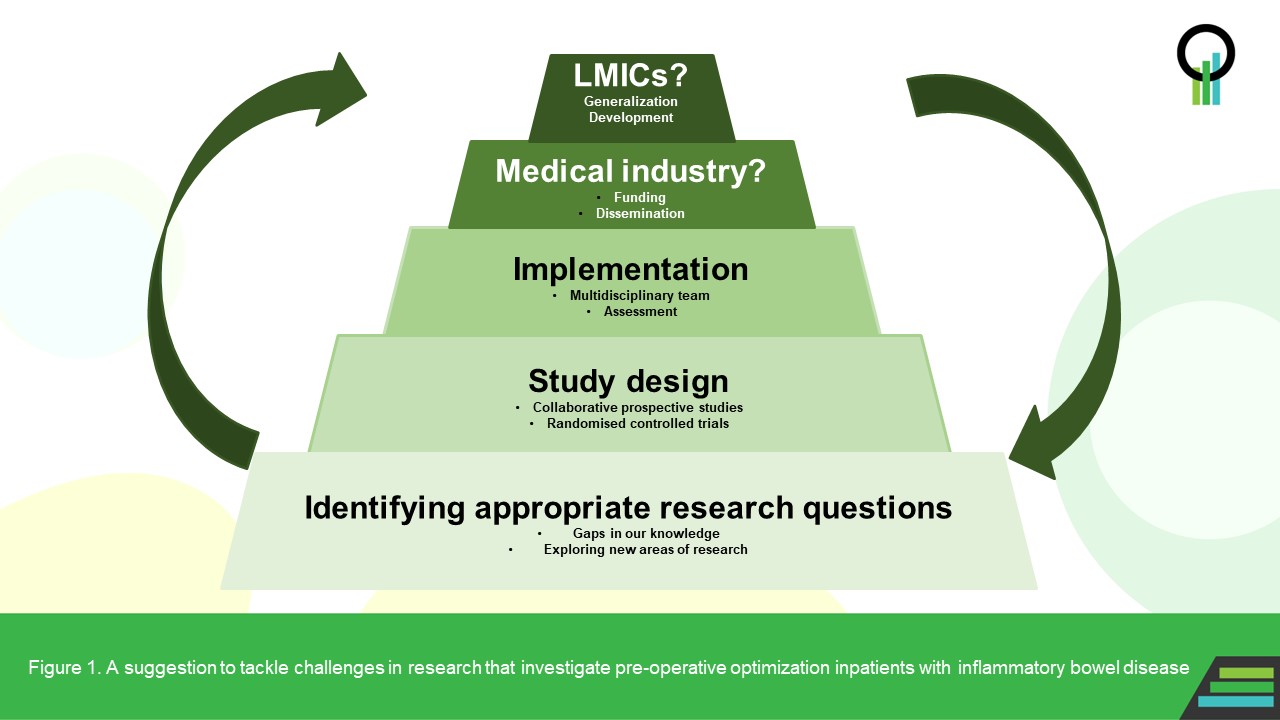 Source: Courtesy of Alaa El-Hussuna
In Figure 1 we suggest a model to tackle these challenges. The Ziggurat figure is composed of five stages. The first is the identification of appropriate research questions addressing gaps in our knowledge. Then, a study design must be adopted that encourages collaborative prospective studies and randomised controlled trials by a multidisciplinary IBD research team. After implementation of the research project and assessment of the results, new research may be planned in a wise reiteration of the process. Involvement of the medical industry may be considered to enhance funding and dissemination of knowledge, while engagement of low- and middle-income countries (LMICs) will improve the generalisability of the research and ensure wider adoption of the recommendations.
New tools for IBD research
Traditional research cannot answer an increasing number of research questions. There is a need to explore and develop new tools for medical research that implement advances in information technologies such as computer simulation models, artificial intelligence, crowd science, big data mining, and synthetic and augmented data analyses, to name just a few.
A group of international researchers have joined forces to explore, develop, validate and disseminate these new tools of research within the framework of a non-profit, international research organisation, the Open Source Research Collaboration (osrc.network). The author is the founder and current chairperson of this organisation.
These new tools may help in generating the required evidence. LMICs can participate in research projects which make use of mobile phone applications due to the ubiquitous use of mobile phones in LMICs.
Conclusion
There are many challenges that prevent or limit the implementation of pre-operative optimisation in patients with IBD. Raising awareness of these challenges, improving the funding for IBD research and lobbying by patients' associations will encourage adaptation and development of pre-operative optimisation.
Let's do it – today!
References
Sebastian S, Segal JP, Hedin C, et al. ECCO Topical Review: Roadmap to optimal peri-operative care in IBD. J Crohns Colitis. 2022. doi: 10.1093/ecco-jcc/jjac129. Online ahead of print.