The 15th Congress of ECCO in numbers
7,307 delegates attended the 15th Congress of ECCO in Vienna
The 15th Congress of ECCO – Inflammatory Bowel Diseases 2020, held on February 12-15, 2020 in Vienna, Austria, attracted a total number of 7,307 delegates from 102 different countries. Since the inaugural ECCO Congress in 2006 in Amsterdam, at which there were 350 delegates, participant numbers have steadily increased, as shown in the graph below. Despite the COVID-19 outbreak in the beginning of the year, we are happy that this high number of delegates had the chance to participate in the ECCO'20 Congress.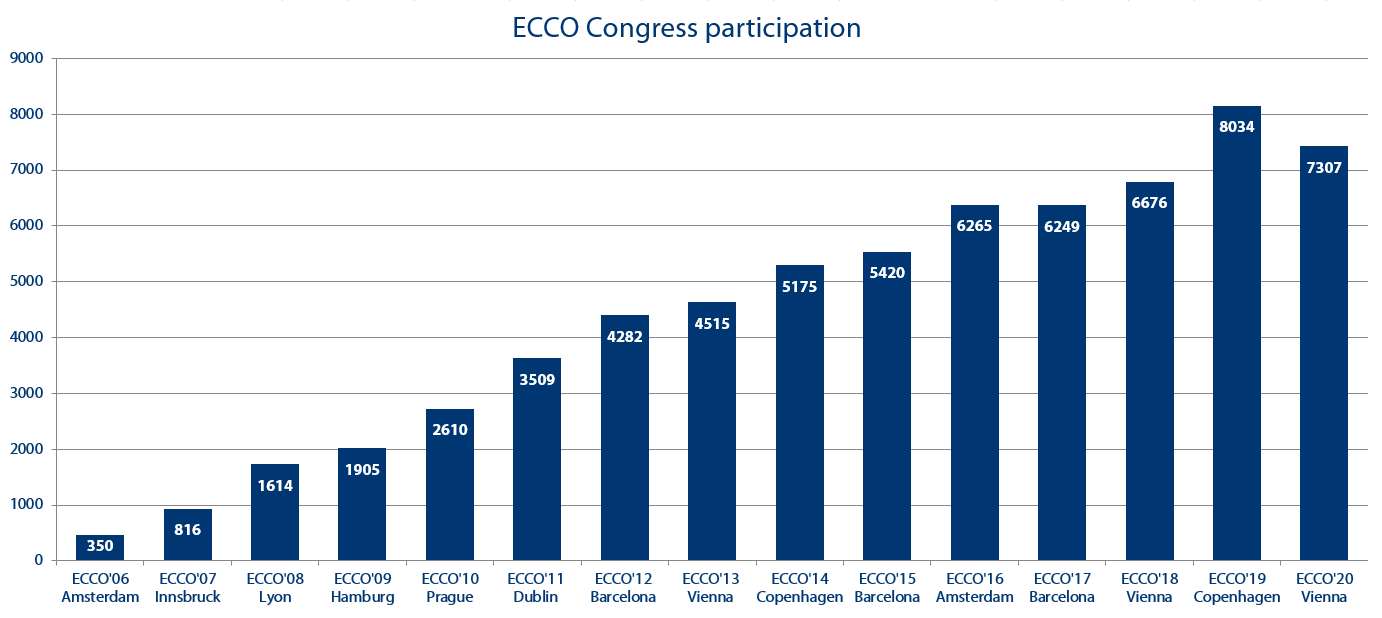 ECCO Congress participation 2006-2020 © ECCO

The pie chart below divides delegate attendance at the 15th Congress of ECCO by continent. Approximately 80% of all participants came from Europe and about 20% from outside of Europe.
The pie chart below illustrates the professions represented at the 15th Congress of ECCO. The majority of participants were physicians (32%), followed by representatives from industry (22%). Other attendees included clinical researchers (6%) and IBD Nurses (2%) along with surgeons, scientists, paediatricians, students and pharmacists (1% each). Endoscopists, research nurses, fellows/trainees and dietitians represented approx. 1.16 % of all delegates.
     High-quality Abstracts                                   
A key component of the success of the ECCO Congress is the rising number of high-quality abstracts accepted for oral, digital oral and poster presentations. An outline of the evolution of abstract submissions is displayed here: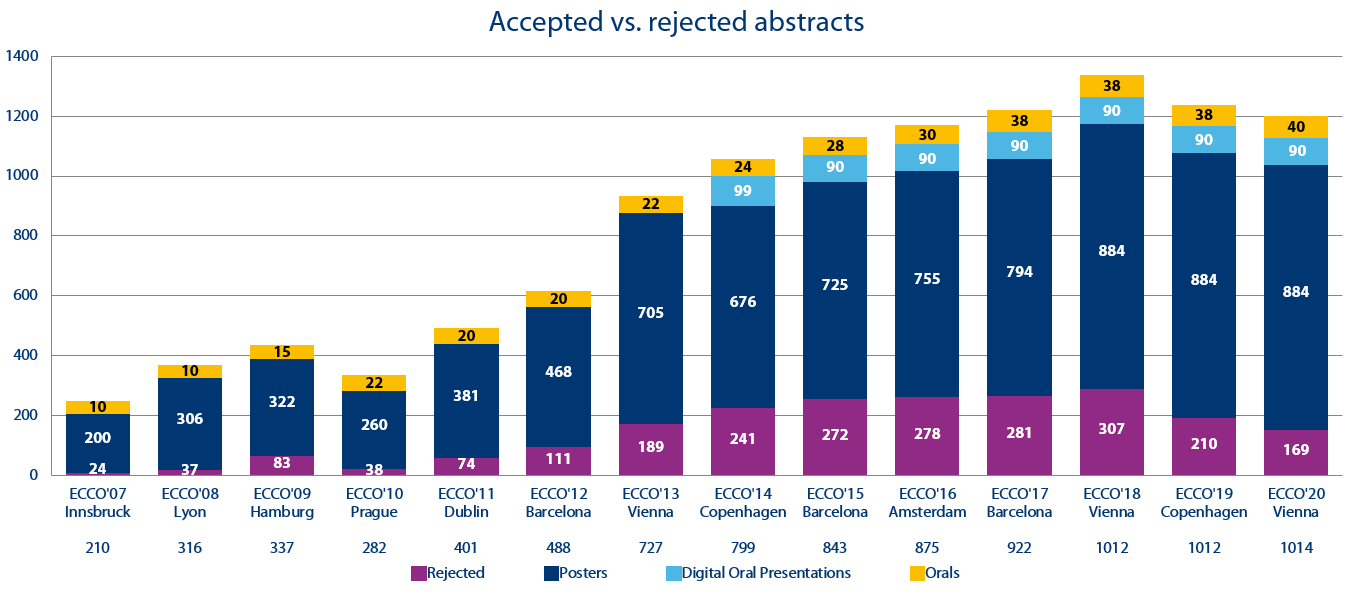 Accepted versus rejected abstracts 2007-2020 © ECCO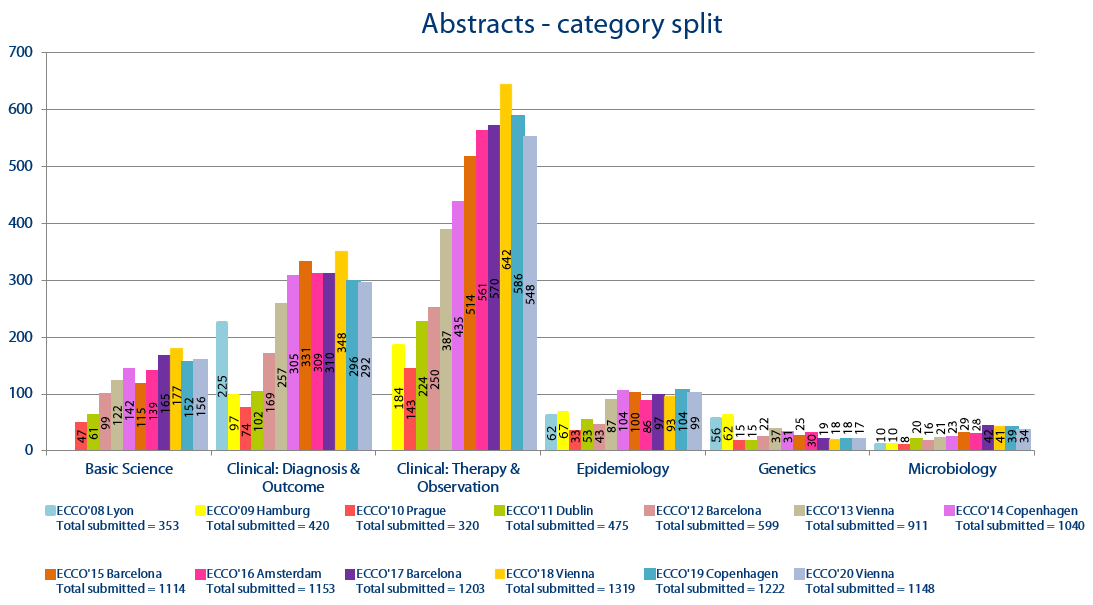 Abstracts 2007-2020 - category split © ECCO

     Industry exhibition                                   
This year's industry exhibition attracted 41 exhibitors, mainly from the pharmaceutical but also from the device/instrumentation, medical, publishing and non-profit sectors. The total net exhibition area was 2,308 m2 – a slightly lower number compared to the 14th Congress of ECCO.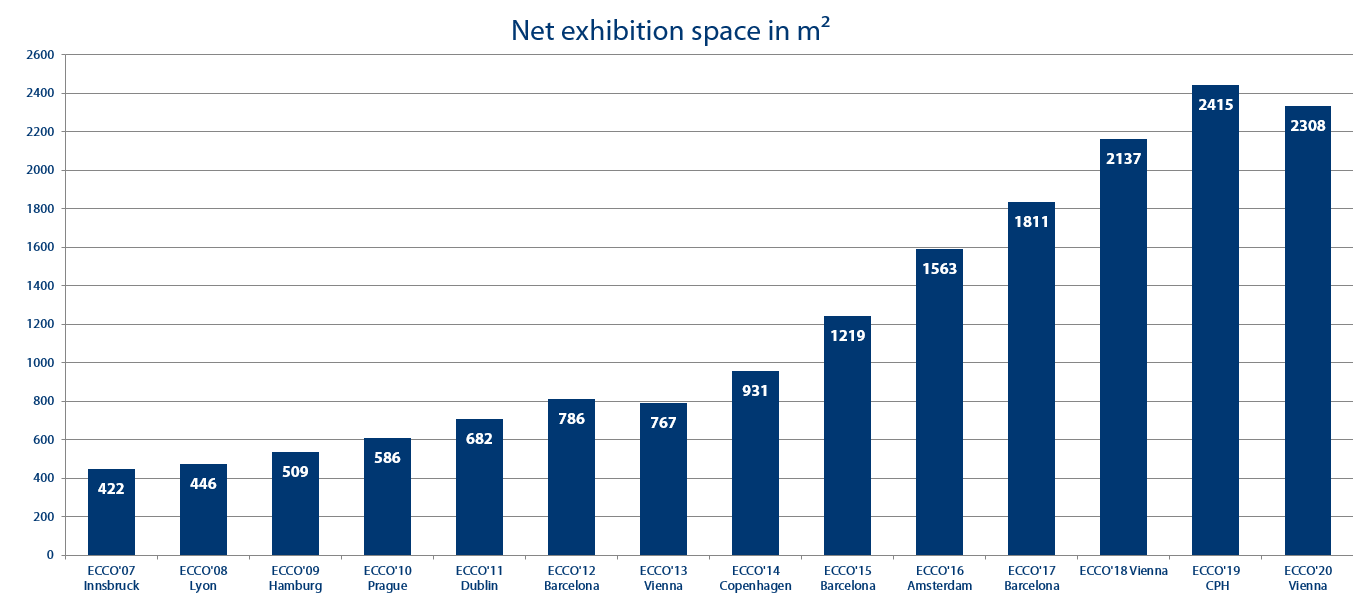 Net exhibition space 2020 in m² © ECCO

     More statistics                                   
More statistics and impressions of the 15th Congress of ECCO can be viewed online at https://www.ecco-ibd.eu/congresses-and-events/past-congresses.html.
Furthermore, video recordings of scientific talks and selected educational courses will be available soon for ECCO Members in the e-Library under Webcasts on the e-CCO Learning Platform: www.e-learning.ecco-ibd.eu.
All presentations of the ECCO Congress can be found soon in the e-Library under Documents on the e-CCO Learning Platform at: www.e-learning.ecco-ibd.eu.
Availability of recordings and presentations is subject to the authorisation of the speakers.