ECCO Grant Study Synopsis: Manasi Agrawal
Manasi Agrawal, ECCO Grant Awardee
Ascertaining the role of the appendix in inflammatory bowel disease in a population-based cohort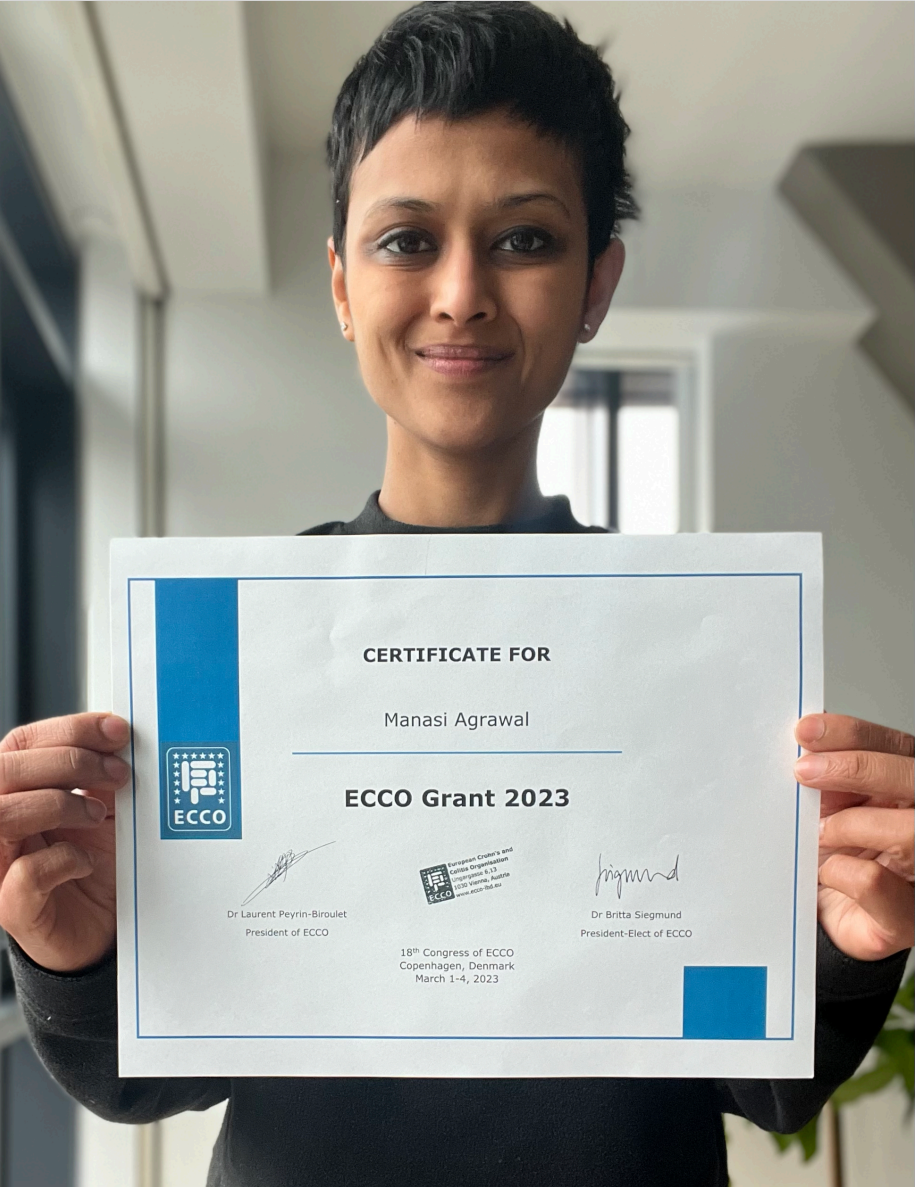 Manasi Agrawal
© Manasi Agrawal
Background & aim of research
Appendectomy at age <20 years for appendicitis or mesenteric lymphadenitis has been associated with a lower risk of Ulcerative Colitis (UC), but this association has not been detected when appendectomy is performed at an older age or for non-specific abdominal pain. Similar findings have been reported upon combining data from Swedish and Danish registers.  However, in a Danish cohort study of familial units, individuals who had first-degree relatives with appendicitis, but no personal history of appendicitis, at age <20 years also had a lower risk of UC. This risk was even lower in those with a family history of UC. 
Interventional studies on elective appendectomy for UC therapy are underway. The impact of appendiceal inflammation on UC outcomes, including cancer, are not well understood. 
The overall aim of this study is to understand the role of the appendix (appendicitis and appendectomy) in IBD risk and IBD outcomes. 
Methodology/experiments that will be used
Using the Danish population-based, cross-linked registers, we will identify all individuals living in Denmark during the study period who have had a diagnosis of appendicitis and/or undergone appendectomy and match them 1:50 on date of appendicitis/appendectomy, age and sex with non-exposed individuals. We will then determine (1) the impact of appendicitis and appendectomy on UC risk and Crohn's Disease (CD) risk and (2) the impact of appendicitis and appendectomy after UC or CD diagnosis on long-term outcomes.
Anticipated main impact
Understanding the individual impacts of appendicitis and appendectomy on IBD risk will shed light on IBD pathogenesis and represent an important step towards development of improved prediction and prevention strategies. Understanding the impact of appendicitis and appendectomy on long-term outcomes of IBD will help to optimise IBD management and will contribute towards better management of appendicitis in individuals with IBD.  This research is also likely to have relevance in the context of other immune-mediated diseases, the pathways for which overlap with that of IBD, and to have implications for public health overall.
Proposed timeline
January, 2023 to December, 2024.