UR-CARE Training Centre at ECCO'19
Report on the main feedback and questions from the delegates
At the 14th Congress of ECCO, the UR-CARE Team received positive feedback from delegates who tried UR-CARE at the UR-CARE Training Centre. Most delegates were very satisfied with the ease of use of the platform and pleasantly surprised that it was free for physicians. Having a standardised platform among the different centres was also very welcomed. People were impressed by the possibility of creating personalised reports of their patients and of having access to a statistical module with the use of desired filters (a timesaving and major asset compared to Access or Excel databases).
UR-CARE Training Centre 2019 © ECCO

The UR-CARE Team received comments and requests about the synchronisation of existing databases, and some questions about the potential use of UR-CARE for prospective studies. It was explained that it is impossible at the current stage to synchronise multiple systems that are incompatible. Regarding the reporting of data on a separate platform, sites already do this with an eCRF. Using UR-CARE will help them to avoid repetitive tasks as some data, such as the medical history, are already on the platform.
Uploading pre-existing data on UR-CARE is a one-time activity and it is up to the investigators to decide whether it is worth investing upfront to save time later and to be able to participate in big cohort studies. After the first import of pre-existing data, the site can keep feeding the platform and it is less time consuming.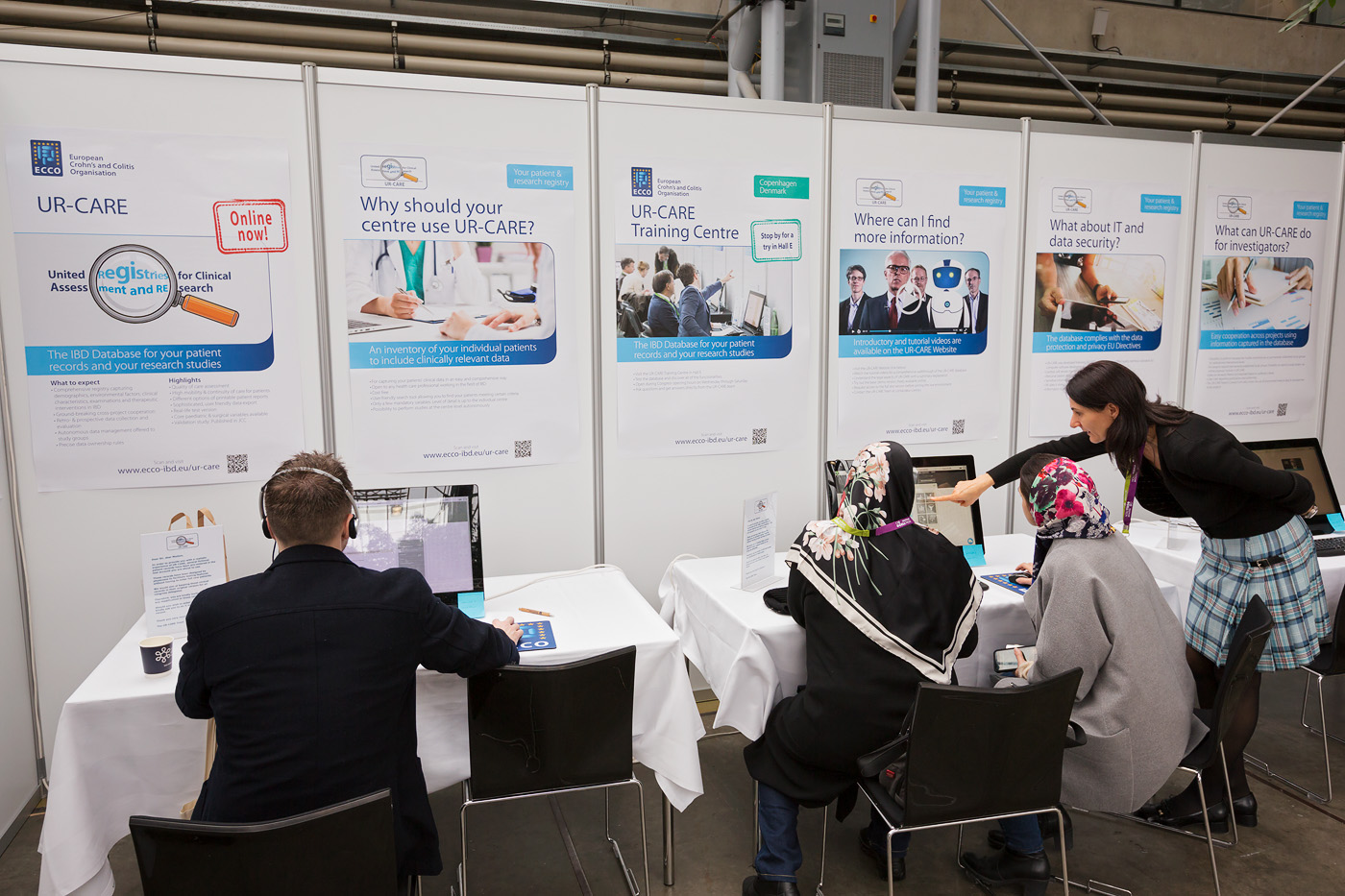 UR-CARE Training Centre 2019
© ECCO
Some delegates wondered about the hypothetical situation where two centres enter data from the same patient in their UR-CARE database (e.g. a patient who has requested different medical opinions) and these two centres are involved in the same multicentre study. In this case, how can one avoid the duplication of data? It was explained that each site will have a separate code for patients, so if a patient is visiting two different hospitals, their file could indeed potentially be duplicated. It is, however, unlikely that a patient would submit to the same tests and exams in two separate hospitals as it is not a one-time data point but a collection of data from a follow-up period. The risk of this impacting the result of the study should be minimal. Physician can also verify with their patients whether such a situation has arisen and decide to eliminate results from any patient to whom this applies. If a patient participates in a prospective study, he or she would most probably be registered only in one centre due to the complexity of the tests and follow-up.
A total of 271 members have already received the UR-CARE start-up package, of whom 130 registered during the ECCO Congress. The UR-CARE Team is now following up with all the requests received. Contracts have been signed with Belgium centres and the first sites will be activated soon. Keep an eye on the latest UR-CARE news and get started with UR-CARE by contacting us (This email address is being protected from spambots. You need JavaScript enabled to view it.)!
Marie-Jo Bertin on behalf of the UR-CARE Team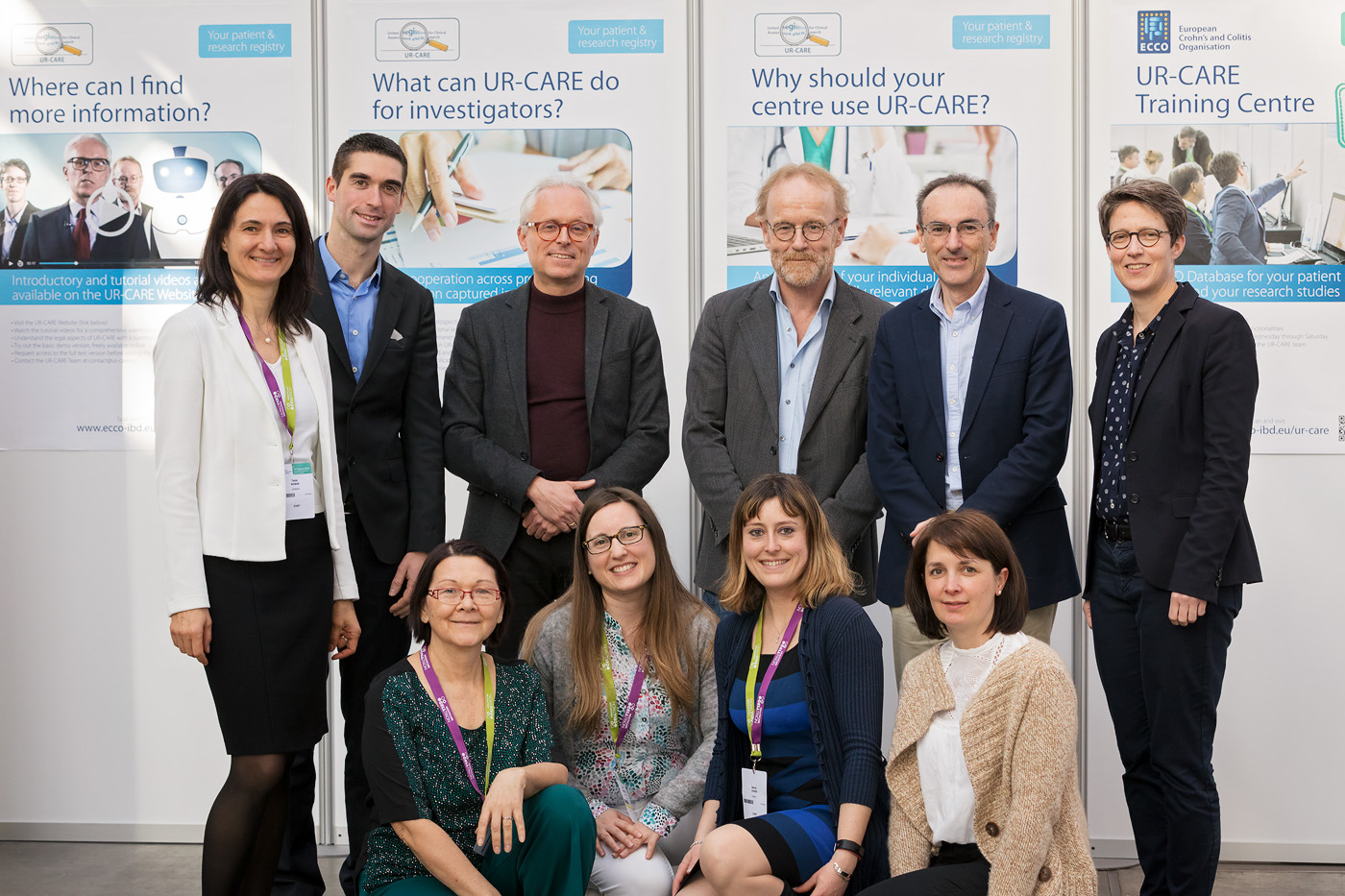 UR-CARE Team at ECCO'19, Copenhagen
© ECCO