ECCO Country Member Profiles: Norway
Marte Lie Høivik and Kristin Kaasen Jørgensen, ECCO National Representatives, Norway
| | |
| --- | --- |
| | Norway |
Name of group: The Norwegian IBD Group

Number of active members: The Norwegian IBD Group is organised within the Norwegian Gastroenterology Association (Norsk GastroenterologiskForening NGF). The Norwegian Gastroenterology Association has 370 active members. The IBD Group consists of 8 members elected at the Norwegian Gastroenterology Association general assembly (four members elected every second year). Approximately 100 members are active within IBD care.
Additionally,the Norwegian Nurses Organization includes a group for Gastroenterology Nurses (NSF/FSG) with 439 active members, of whom approximately 100 IBD Nurses. There is no formal IBD Nurse network but NSF/FSG arranges a yearly national IBD symposium for nurses interested in IBD.
Number of meetings per year: The IBD Group arranges a national IBD symposium annually. The Norwegian Gastroenterology Association has one national conference and one to two regional meetings in the five different health regions in Norway per year. The NSF/FSG arranges a yearly national IBD symposium for nurses interested in IBD.
President and Secretary:President the Norwegian Gastroenterology Association is Mette Vesterhus, associate professor at Haraldsplass Hospital in Bergen. Petr Ricanek MD, PhD at Akershus university hospital, is head of the IBD Group

National Representatives:Marte Lie Høivik MD PhD at Oslo University Hospital and Kristin Kaasen Jørgensen, MD PhD at Akershus university hospital. Elisabeth Finnes, IBD nurse specialist at Oslo University Hospital is the Norwegian representative in N-ECCO.

Joined ECCO in: 2005

Incidence of IBD in the country: There are no updated incidence numbers available in Norway. According to data from the IBSEN study the UC incidence was 12,8/100.000 persons/year and CD incidence 6/100.000 persons per year in the early nineties. We are awaiting updated incidence data from the ongoing IBSEN III study within 2020.
What has changed since your society became an ECCO Country Member?
- The general awareness of and knowledge about IBD is increasing among Norwegian gastroenterologists as well as gastroenterology nurse specialists. IBD Research is also increasing both in quality and quantity. This is reflected in an increasing number of Norwegian delegates at the ECCO Conferences.
What are the benefits to you of being an ECCO Country Member?
- Access to a large society of researchers
- Access to the ECCO platforms for education and research, including the clinical guidelines
- The possibility to host ECCO workshops
- Participation at the ECCO IBD Advanced Course
- The possibility to build an international network for research and to contribute in multinational research projects
- ECCO is a source of inspiration for fellows aspiring a career in IBD Research
Is your society making use of the ECCO Guidelines?
The ECCO Guidelines are widely used among the Norwegian gastroenterologists.
Have you developed research projects with other countries through your ECCO Country Membership?

N-ECCO funded multicenter study "Medication Adherence in IBD" (Sweden, Norway, Denmark)
Have you developed educational activities with other countries through your ECCO Country Membership?

Not yet
Has your country been involved in a fellow exchange through ECCO?

Not yet
What are your main areas of research interest?
The Norwegian IBD Research Groups (including the national ECCO representatives) focus on: clinical epidemiology, biosimilars, clinical research on IBD-PSC, IBD after liver transplantation, pouchitis, patient reported outcomes, IBD Quality of Care, microbiota, ultrasound in IBD, mucosal immunology exit strategies in biological treatment, the use of TDM in biological IBD treatment, fatigue in IBD, the role of vitamin D in IBD
Does your centre or country have a common IBD database or bio bank?
Currently, we do not have a national, common IBD registry or biobank in Norway. Some centers are developing local IBD registers and biobanks. IBD is on the shortlist for new national health registries in Norway from 2020.
What are your most prestigious/interesting past and ongoing projects?
NOR-SWITCH: a randomized, multicenter, double-blind, parallel-group study to evaluate the efficacy and safety of switching from innovator to biosimilar infliximab compared to continuous treatment with innovator infliximab in ulcerative colitis, Crohn's, rheumatoid arthritis, spondyloarthritis, psoriatic arthritis and chronic plaque psoriasis.
The IBSEN study: a large population-based inception study representing a gold standard for epidemiological IBD research. The cohort has been followed for almost 30 years since the early nineties. More than 100 papers are based on data from this extensive study.
The IBSEN II study: a population-based inception cohort established to characterize clinical parameters, mucosal microbiota and barrier function in adult and pediatric IBD patients with the shortest possible symptom duration and before any medication was given.
The IBSEN III-study: a new population-based inception cohort including all new IBD cases in the South Eastern Health region (covering 3 million inhabitants) in 2017 -2019. Currently, 1880 patients have been included and we expect a cohort of 2200 patients. The study will form the basis for a broad range of research areas including epidemiology, clinical outcomes, PRO-research, paediatric IBD, diet, health economy and basic science.
IBD Character: an ongoing EU-project aiming to characterize newly diagnosed IBD patients at microbial, immunologic and genetic levels.
BIO-STOP: a multicenter study to assess the clinical outcome after stopping anti-TNF treatment in clinically stable patients with ulcerative colitis, initiated in 2017
NOR-DRUM: a multicenter randomized controlled trial in patients with rheumatoid arthritis, spondyloarthritis, psoriatic arthritis, ulcerative colitis, Crohn´s disease and psoriasis assessing the effectiveness of targeting biosimilar infliximab treatment by therapeutic drug monitoring, initiated in 2016
TRIN (Treatment and resource use in IBD in Norway): a nationwide registry study to (using national health registries) estimate regional differences in use of biological treatment and surgery
I-SCAN (Scandinavian CANcer in IBD study): will provide new cancer risk estimates for patients with IBD based on comprehensive registry data form the Scandinavian countries
Colorectal neoplasia in IBD (UC-Surveillance study): a prospective, multi-center cohort study that compares two strategies to follow-up patients with ulcerative colitis and high-risk of colorectal cancer: bi-annual chromoendoscopy versus annual clinical follow-up including colonoscopy when indicated by symptoms Additionally there is ongoing translational research at several University Hospitals: Stavanger University Hospital: biological mechanisms for fatigue and course of fatigue in IBD, optimization of biological treatment using TDM, novel biomarkers in IBD.
Which ECCO Projects/Activities is the group currently involved in?
Randi Opheim associate professor is a co-author in the newly published ECCO Topical review on Complementary Medicine and Psychotherapy in Inflammatory Bowel Disease (2019). She is also national PI in an ECCO founded ongoing multicenterstudy "Medical Adherence in IBD".
Ignacio Catalán-Serra MD PhD has recently joined the ECCO news editorial board.
What are your aims for the future?
- We will continue our work to improve IBD care throughout the country, especially at the smaller hospitals in order to ensure high quality care to all IBD patients.
- We will seek to consolidate ongoing research by focussing on the strengths of the Norwegian social and health-cares system: the possibility to perform high quality population-based studies, strong epidemiological research including the use of high quality public registries as well as translational research
How do you see ECCO helping you to fulfil these aims?
- By continuously organising updated congresses
- Updated guidelines
- Disseminate updated high quality research and educational programs
What do you use ECCO for? Network? Congress?
ECCO is considered the most important IBD congress to attend by a large number of Norwegian participants annually. ECCO is an important platform for networking, both regarding research and clinical challenges The ECCO Congress is an important meeting point for project collaborations.
How do you use the things/services that ECCO has to offer?
The ECCO Guidelines are widely used The educational platform is widely used by fellows, specialists and IBD Nurses.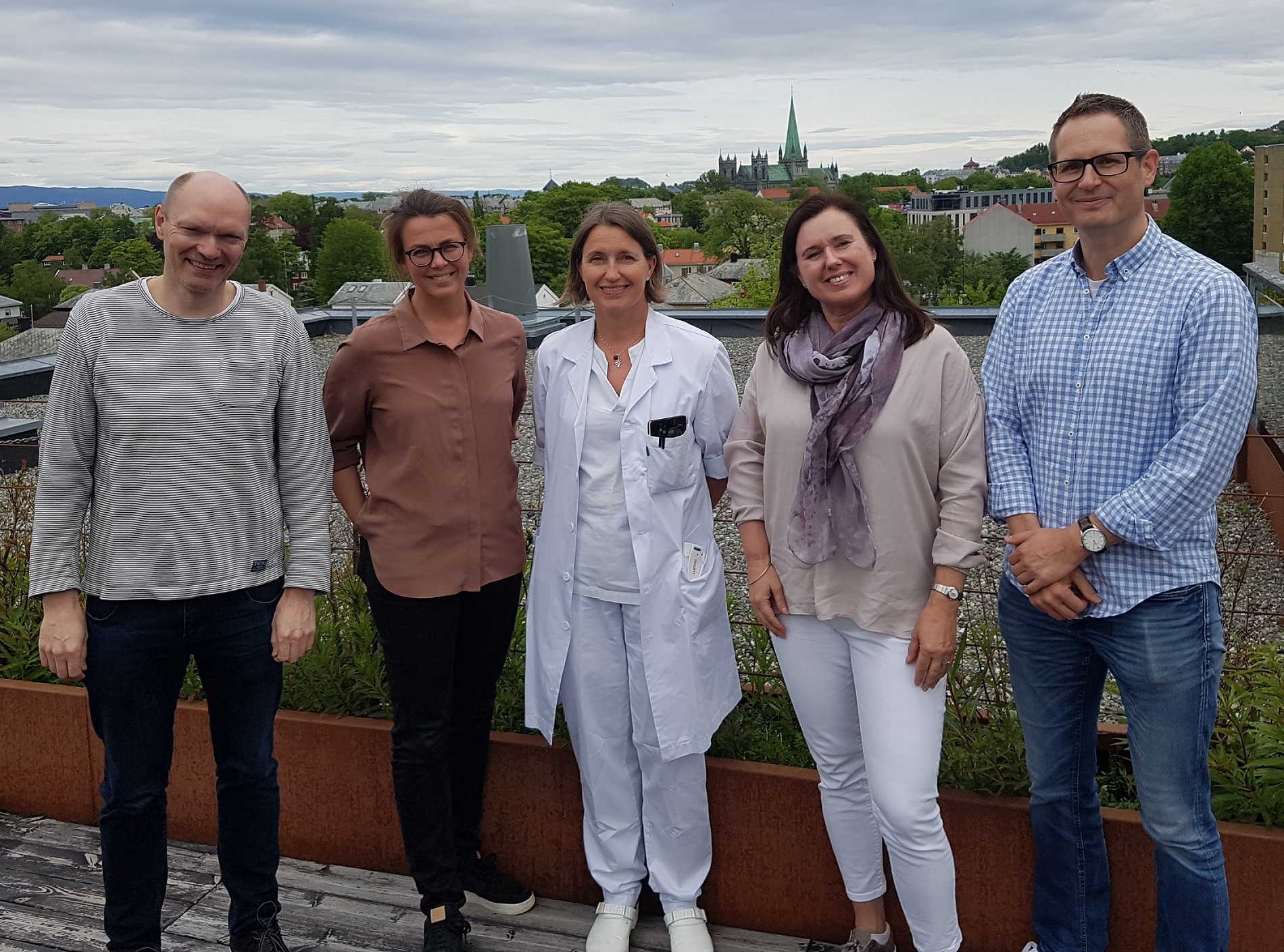 Norwegian IBD Group photo © Marte Lie Høivik
(fLTR: Tore Grimsrud, Marte Lie Høivik, Ann Elisabeth Østvik, Kristin Kaasen Jørgensen and Patr Ricanek)