ECCO Country Member Profiles: United Kingdom
Ian Arnott and Tariq Ahmad, ECCO National Representatives, United Kingdom

Tariq Ahmad
© Tariq Ahmad


Ian Arnott
© Ian Arnott

| | |
| --- | --- |
| | United Kingdom |
Name of group: The IBD section of the British Society of Gastroenterology (BSG).
Number of active members: Approx. The IBD section is the largest section of the BSG and has 997 members including physicians, surgeons, pathologists, radiologists, scientists, nurses, dietitians, and others interested in IBD. The IBD section committee includes nurse, trainee and patient group membership.
Number of meetings per year: The BSG holds an annual national meeting in June with two or three IBD symposia. In addition, the BSG supports or endorses numerous regional gut clubs and network meetings across the UK each year. Many of these are focused on IBD. The IBD section includes the IBD clinical research group which leads research activity across the UK.
This group holds an annual meeting every November to which all investigators are invited. In 2018, 120 delegates attended, including physicians, research nurses and research co-ordinators.
President and Secretary: BSG president – Cathryn Edwards BSG secretary - Adrian Stanley Chairman, IBD section of the BSG – Ian Arnott Chairman of IBD clinical research group – Charlie Lees
National Representatives: Tariq Ahmad, Exeter and Ian Arnott, Edinburgh. Lynn Gray, Wirral University Hospital and Catherine Stansfield, Salford Royal are the UK representatives of N-ECCO.
Joined ECCO in: 2003
Incidence of IBD in the country: Recent data from Scotland reveal incidence rates for UC, CD and IBDU of 19.8, 13.6 and 5.4 per 100,000 respectively (Jones GR Gut 2019)
What has changed since your society became an ECCO Country Member?
The number of UK members of ECCO, including IBD nurses, has increased dramatically and they now constitute the largest national group in ECCO. Arguably, IBD has become the most popular field of gastroenterology in the UK. There has been rapid growth in research activity across all hospitals in the UK, facilitated by the UK National Institute of Health Research.
What are the benefits to you of being an ECCO Country Member?
We benefit from sharing of new ideas, best practice (through the ECCO Guidelines), networking and research collaboration. Our trainees have taken advantage of the advanced course in IBD. Our nurses have benefited from attending the NECCO school and network meeting and in 2017 we held an ECCO Workshop in Cardiff. A number of UK IBD research groups have successfully been awarded ECCO Grants.
Is your society making use of the ECCO Guidelines?
The comprehensive set of ECCO Guidelines is widely used across the UK, although the BSG has recently published a new GRADE based set of management guidelines.
Have you developed links with other countries through your ECCO Country Membership?
• Have you developed research projects with other countries through your ECCO Country Membership?
1. EPI-IBD study group – A collaboration across ECCO Partners on the epidemiology of IBD (St Mark's Hospital and Hull University Hospital)
2. ICARE study- The UK is the second highest recruiting ECCO Partner
3. PRED4 study of adverse drug reactions in IBD
• Have you developed educational activities with other countries through your ECCO Country Membership?
Yes, joint symposia between the BSG IBD section and GETAID at the 2019 annual BSG meeting.
• Has your country been involved in a fellow exchange through ECCO?
Yes, St. Bartholomew's Hospital, St Mark's Hospital and Hull University Hospital have all welcomed fellows as part of the ECCO exchange
What are your main areas of research interest?
UK IBD researchers are engaged in a full range of research areas including genetics, pharmacogenetics, epigenetics, disease prognostication and stratification, microbiome, clinical trials, quality of life, therapeutic drug monitoring and patient reported outcomes.
Does your centre or country have a common IBD database or bio bank?
The UK has two national IBD resources:
UK IBD registry https://ibdregistry.org.uk/ works with over 100 hospitals across the UK to gather longitudinal IBD data on a cohort of more than 55,000 patients. The collected data are used to inform clinical commissioning decisions and to facilitate research.
UK NIHR IBD BioResource www.ibdbioresource.nihr.ac.uk/ is a national platform designed to expedite research into Crohn's Disease (CD) and Ulcerative Colitis (UC) and help develop new and better therapies. As of September 2019 the IBD BioResource has recruited over 25,000 patients with CD or UC from all over the UK. All patients are recallable for research projects based on phenotype or genotype. The IBD BioResource is discussed further in an up-coming editorial: - Parkes M et al Gut. 2019 Sep;68(9):1537-1540. doi: 10.1136/gutjnl-2019-318835. Epub 2019 Jul 3.
What are your most prestigious/interesting past and ongoing projects?
PROFILE is a randomised, multi-centre, biomarker-stratified, open-label trial in patients newly diagnosed with CD. PROFILE aims to demonstrate that a prognostic biomarker can enable delivery of personalised therapy in CD, and that this improves clinical outcomes. PROFILE aims to recruit 400 adults with newly diagnosed CD from 50 UK hospitals (on-going).
PREDICT - Predicting inter-individual differences in biochemical and behavioural response to meals with different nutritional compositions using metabolomic and microbiome profiling (ongoing)
The UK NIHR IBD IBD bioresource (see above – ongoing).
The IBD HUB, part of the Digital Innovation Hubs programme, is a new endeavour to develop the UK's health data infrastructure for research and innovation with a focus on early diagnosis and precision medicine. It builds on many recent healthcare technological advances, including in digital health and genomics, and on broader developments in machine learning and artificial intelligence (in set-up).
STATIC – STopping Aminosalicylate Therapy in Inactive Crohn's Disease (STATIC) Study: A Randomized, Open-label, Non-inferiority withdrawal trial in Crohn's Disease (ongoing).
METRIC - Diagnostic accuracy of magnetic resonance enterography and small bowel ultrasound for the extent and activity of newly diagnosed and relapsed Crohn's Disease (METRIC): a multicentre trial (completed).
VEST: The UK Vedolizumab Real Life Experience Study in Inflammatory Bowel Disease (ongoing)
IASO: A phase II randomised placebo controlled double-blind trial of interleukin 1 blockade in Acute Severe Colitis (ongoing).
The STOP-Colitis trial: randomised double-blind, placebo-controlled trial of FMT in Ulcerative Colitis (in set-up).
ASTIClite: Autologous Stem cell Transplantation In refractory Crohn's Disease – Low Intensity Therapy Evaluation. The ASTIClite trial is testing whether autologous haematopoietic stem cell transplant (HSCT) is an effective treatment for Crohn's disease in patients who have not responded to current licensed treatments (ongoing).
PANTS is a UK wide prospective observational study investigating anti-TNF treatment failure. The initial clinical data were published in 2019. Down-stream multi-omic studies using biobanked samples from this project are now in progress (ongoing).
PRED4 is a series of international pharmacogenetic studies of serious adverse reactions from drugs commonly used in gastroenterology.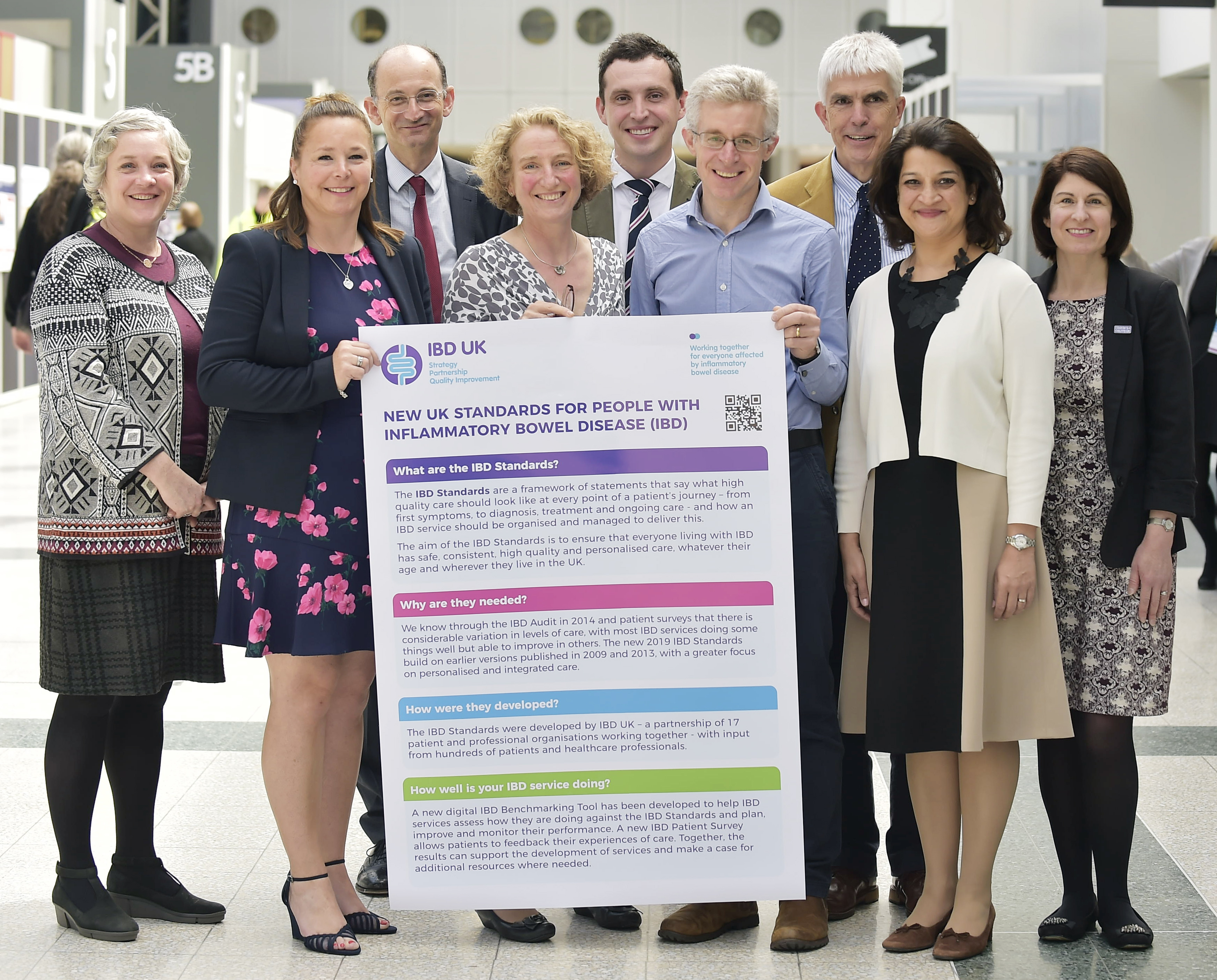 Presentation of the new UK standards for people with IBD © British Society of Gastroenterology
Which ECCO Projects/Activities is the group currently involved in?
UK ECCO Members have served on every ECCO Committee and the Governing Board, contributed to writing ECCO Guidelines and been actively involved in the annual congress and international workshops.
Currently UK ECCO Members are recruiting cases to ICARE and ICARE COllaborative Network For Exceptionally Rare case reports (CONFER) and SPARE.
What are your aims for the future?
1. To promote and improve best practice for IBD patients across the entire UK
2. To use our growing research infrastructure and network of investigators to improve the quality and quantity of IBD research across the UK
How do you see ECCO helping you to fulfil these aims?
ECCO allows shared learning of best IBD practice and fosters research collaboration and friendship across Europe. We hope ECCO can help to further develop our trainee exchange programme and to expand some of our research projects to international sites. The ECCO Awards and Grants are crucial in supporting UK IBD research.
What do you use ECCO for? Network? Congress?
The annual ECCO Congress is the leading global IBD meeting and the most important meeting for UK IBD clinicians and researchers. UK delegates attend for a number of reasons including learning, networking and collaboration.