We have MORE THAN a dream – your pioneer IBD platform, UR-CARE, is online NOW!
Julián Panés, ECCO President; Filip Baert, UR-CARE Steering Committee
Dear friends and colleagues,
UR-CARE is online NOW!
This international database offered to you by ECCO's research unit (IBDIM) has been designed for your patient records and your research studies.
Our Community has been very much anticipating a comprehensive tool which:
Helps health care professionals in IBD to manage patient records in daily clinical care, providing a user-friendly solution at top-level standard
Allows researchers to build on a validated tool, to reduce the work duplication in data entry, to use a joint CRF format and to benefit from a comparable data format for retrospective studies
Offers a helpful basis for multidisciplinary teams as a joint reference platform, for example supporting nurses in answering helplines
UR-CARE is the ECCO flagship project – aiming to bring the IBD Community together at a pioneer level while at the same time providing scientific independence: the initiative builds on the sovereignty of the participating centres and of the study groups to decide about their data and projects, and offers to bring your research to an international level.
This visionary project provides a solid basis for cross-national research as well as improvement of quality of care in patients and merits your dedicated interest and focus. It is thoroughly prepared, transparent and embedded in the academic framework of ECCO – with a primary focus on users and patients. The commitment to diligence and scientific integrity is a distinctive benchmark characteristic of this project.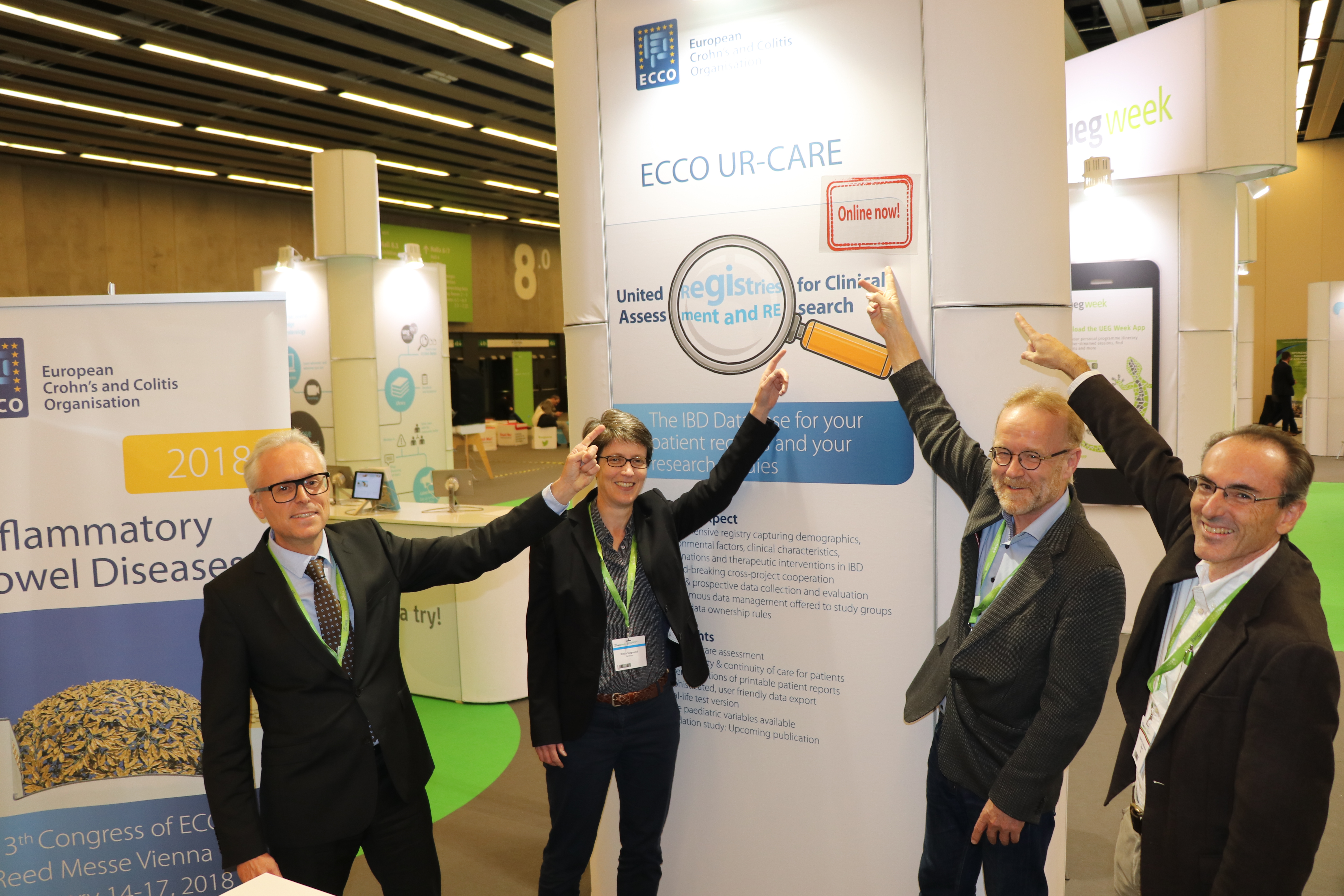 UR-CARE Steering Committee at UEGW'17 © ECCO
Offering such a broad framework trusts in your readiness to explore and investigate the opportunities provided by this tool: the benefits build on a complex and solid foundation set up in the European framework. Non-European centres and study groups are invited to contact the UR-CARE team for further discussion about potential collaboration.
We trust that the UR-CARE benefits will unite the IBD Community and that we can jointly boost patient care.
Sincerely,
Julián Panés, ECCO President on behalf of the ECCO Governing Board
Filip Baert, on behalf of the UR-CARE Steering Committee
---
Welcome Checklist – How to join UR-CARE

(outline of core steps)
Get informed and prepare to:
Visit the demo version – easily accessible on the ECCO Website: www.ecco-ibd.eu/ur-care
Seize the occasion of the upcoming ECCO'18 Congress to find answers to your personal questions at the UR-CARE Training Centre.
Coordinate with your national study group about using UR-CARE as a permanently established study group.
Contact the ECCO Office (

This email address is being protected from spambots. You need JavaScript enabled to view it.

) to grant you access to a test live version (going beyond the functionalities of the demo version).
Schedule a meeting between UR-CARE Steering Committee representatives and your study group at the UEG Week or the ECCO Congress (allocated on a first come, first served basis).
Joining UR-CARE as an Individual Participant Centre:
The application to join UR-CARE can be made by any member or employee of the Individual Participant Centre by contacting the ECCO Office at

This email address is being protected from spambots. You need JavaScript enabled to view it.


Applications by a member or an employee of the Individual Participant Centre, who is also an ECCO Member, may be prioritised.
The ECCO Office will send you the UR-CARE legal documents (contract, framework of rules and patient consent template), which should be studied carefully.
Open questions can be addressed to the ECCO Office at

This email address is being protected from spambots. You need JavaScript enabled to view it.

The UR-CARE legal documents need to be submitted for your Ethics Committee approval in line with national and institutional regulations.
The UR-CARE contract needs to be signed by the signing authority of the Individual Participant Centre and will be countersigned in the name of the IBDIM CEO.
The Individual Participant Centre needs to provide the ECCO Office with the necessary details of the users, who should receive an access so that the log-in accounts can be set up.
Before entering a new patient record in UR-CARE, the patient needs to sign the UR-CARE Patient Consent Form. The Patient Consent Form management rests with the Individual Participant Centre: it is recommended to track in written form that patient consent is one file and that a printed copy is handed to the patient.