How to join us
Individual Membership
ECCO is a young and active association with a very high potential for membership growth. As of September 2020, we have over 4,000 registered individual members, with numbers continuously increasing each year.
ECCO Membership Growth 2009-2020

ECCO Membership growth 2009-2020, as per February 2020 (Source: ECCO Office)

ECCO Membership per country 2020

Membership statistics per country "Top 25 countries" out of 85, as per May 2020 (Source: ECCO Office)

Categories of Individual Membership
---
Country Membership
Since the foundation of ECCO we have been continuously supported by our national counterparts and are honoured to embrace 36 Country Members, each being represented by two National Representatives. These functionaries are the driving force and seen as our ambassadors spreading the "ECCO Spirit".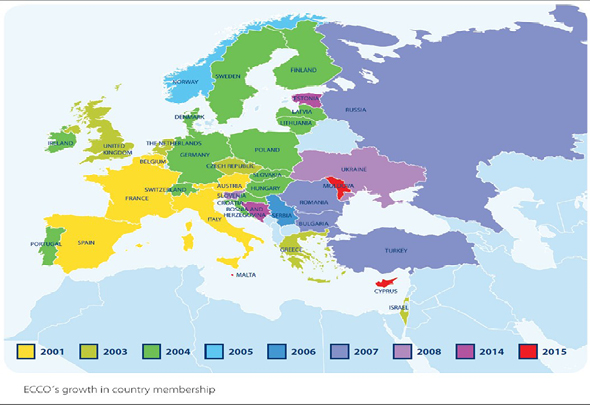 More details on the role and tasks of the ECCO National Representatives can be viewed online at  www.ecco-ibd.eu.
---
Corporate Members 2021
ECCO follows a policy of a transparent and impartial interaction with industry active and interested in the field of IBD. ECCO gratefully acknowledges the support of the following Corporate Members: